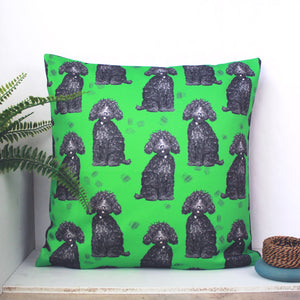 Our Labradoodle Dog Cushion is the perfect addition to a Labradoodle owners home!
This cute green dog cushion is printed with our hand drawn illustration and adds a splash of colour to any chair or sofa.
Backed with a rich charcoal grey cotton drill and finished with a 'martha and hepsie' label.
Available as a cushion cover only or filled with a synthetic or feather pad.
Our cushion is square in shape, measures 45cm by 45cm has a zip closure, 100% cotton drill (rub test 20,000+) and is dry clean only.
Please note our fabric is printed to order and our cushions are handmade.
It may take up to 4 weeks to deliver, we will be as quick as we can to get your order sent asap! 
Designed in Martha's snug Sheffield studio, printed in the UK and handmade in Devon.
Please note that due to the printing process there may be a slight variation in colour from the pictured product.